Gary Wilson, author of Moonlight Visions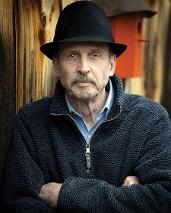 Canadian born Gary Wilson moved with his family to live in France for four years when he was young. He dropped out of college when he was twenty and backpacked throughout Europe. He lived with farmers in the mountains of Ketama, Morocco, worked on a kibbutz in Israel, slept on the beaches of the Mediterranean and rooftops of run-down hotels in Istanbul, Turkey. He traveled to thirty-three countries. In winters, he worked as an instructor at Killington, Vermont, where he taught more than a thousand people to ski.
He briefly attended the Art Institute of Boston and then exhibited his own work throughout New England. In 1980, he won the prestigious Emily Lowe award for contemporary painting at Allied Artists of America in New York City. A slide catalog of the exhibit toured major US universities and then was archived in the Smithsonian Institution in Washington, DC. He was president of the Watertown Artists Association in a Boston suburb.
In 1989, married with children, he and his family moved to Whately, Massachusetts. He became finance manager for an international company, American Saw, with travel to Europe to visit customers and oversee their Netherlands operation. Years later, he worked supervising external audit firms for the eighth largest private company in the US, C&S Wholesale Grocers, before retiring in 2018.
He always missed what he felt was his purpose, creating art, as the realities of life interceded. He never resumed his painting and drawing after leaving Boston.
In March 2021, after his first shot for COVID-19, he began to experience verses in his mind at night. Somewhere between being awake and asleep, storylines crept. He has no idea where they came from, had never written stories before, and certainly had not written verse. Apparently, the vaccine boosted his creativity in a unique way, and it came not in paintings, but in words.
Click the button to buy Moonlight Visions at amazon.com
Call 978.249.9400
or email marcia2gagliardi@gmail.com
to order Moonlight Visions
directly from the publisher.
Readers of Gary's stories will be transported from the confines of a living room to whole new worlds far away and sometime a bit bizarre. Readers will be entertained by shapeshifters, magic pills, the keyhole of frightening visions, and even transported to the Far East and Africa for adventure.
—Cynthia Crosson